EPSDT "Care for Kids"
As part of Iowa's EPSDT program, the EPSDT Care for Kids newsletter:
Informs Iowa health care professionals about Iowa's EPSDT Care for Kids program;
Encourages them to make use of this important resource; and
Provides them with information about new developments in the field of health care.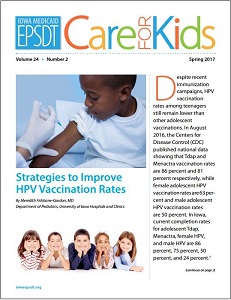 The EPSDT Care for Kids newsletter articles reflect the primary objective for the newsletter's editorial board: promoting healthy child development throughout Iowa.
Publication Schedule
Iowa's EPSDT program publishes its "Care for Kids" newsletter three times a year, as a collaborative effort of the:
Iowa Department of Human Services
Iowa Department of Public Health
Iowa Prevention of Disabilities Policy Council
Center for Disabilities and Development at the University of Iowa Hospitals and Clinics
Iowa EPSDT will continue to print and mail the newsletter, and a new electronic version will be available by email soon. Use the sign-up form at the bottom of this page to subscribe.
Reprint Policy
You are welcome to print out and share copies of the EPSDT newsletter or material from the newsletter with others. If you wish to reprint newsletter material in another publication, whether print or electronic, please call 319-384-5656 for permission prior to publication.
Volumes 26 to 13
Click on the links below to access a printable copy of any of the available issues. For questions or more information about EPSDT newsletter articles, please get in touch with Meredith Field at 319-384-5656.
27
2020 issues.
26
2019 issues.
25
2018 issues.
24
2017 issues.
23
2016 issues.
22
2015 issues.
21
2014 issues.
20
2013 issues.
19
2012 issues.
18
2011 issues.
17
2010 issues.
16
2009 issues.
15
2008 issues.
14
2007 issues.
13
2006 issues.
Subscribe Now!
Iowa EPSDT is developing an electronic version of the Care for Kids newsletter to be delivered by email. We will continue to print and mail the hard copy version three times a year.
Subscribe below.
Use the sign-up form at the bottom of this page to subscribe to the electronic version, coming later this year.
Staff & Editorial Board
Newsletter Staff
Executive Editor: Temitope Awelewa, MBChB, MPH
Production Editor: Lesly Huffman
Graphics Editor: Leigh Bradford
Webmaster: Meredith Field
Editorial Board
Elizabeth Cramer, MD
Rhonda Enserro, MD
Analisa Pearson
Shruti Tewar, MBBS, MPH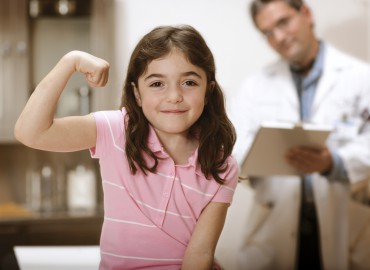 Website Accessibility
Iowa EPSDT is committed to making our information and materials accessible to everyone.
To increase the font size on site pages, hold down CTRL and press + on a PC. Hold down Command and press + on a Mac.