Billing & Coding
This website provides information about billing and coding for:
Comprehensive EPSDT preventive medicine exams
Developmental testing
Autism screening
Adolescent depression screening
Alcohol and drug use screening
Emotional/behavioral screening
Diagnosis
Please visit our Billing & Coding page to find more information.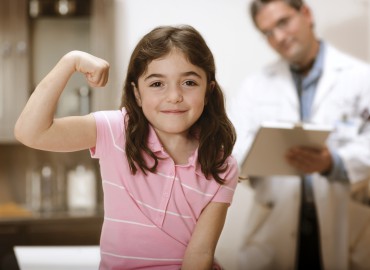 EPSDT Newsletter
Care for Kids
Iowa's EPSDT program publishes its "Care for Kids" newsletter three times a year, as a collaborative effort of the Iowa Department of Human Services, Iowa Department of Public Health, Iowa Prevention of Disabilities Policy Council, and the Center for Disabilities and Development at the University of Iowa Hospitals and Clinics.
Click on the image below to visit our newsletter page, where you will find additional information about the publication, and links to current and archived issues.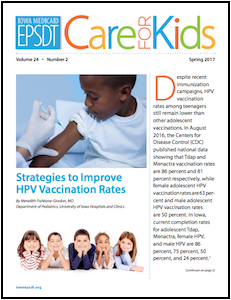 Iowa Child Health and Development Record
Iowa Child Health and Development Record (CHDR) forms are used to guide and document a child's health maintenance visits during the period from birth up to age 18. The CHDR forms include developmental milestones and potential red flags for referral, and are based on the Iowa EPDST Care for Kids Periodicity Schedule.
Resources for Special Needs Populations in the Medical Home
Adoption.
Immigrant screening.
Genetic disorders.
General
Specific Genetic Conditions
Other Disorders
Resources for Early Brain Development
The website, a part of the American Academy of Pediatrics, focuses on Early Brain and Child Development. It provides basic and advanced information on this topic.
"Promoting Early Brain and Child Development (EBCD): Building Brains, Forging Futures" online course.
This website has brief videos, lectures on video and written briefs which cover the areas of pediatric brain development and the science of children's social, emotional and behavioral development. Special attention is given to the interaction between the environment in which a child develops and the impact on the developing brain.